Welcome to CUPE LOCAL 744
We are the St. James Assiniboia School Division Workers Union, representing Maintenance Staff, Bus Drivers, Painters, Caretakers, Cleaners and Computer Technicians.  
Welcome to our website.
Scroll down for information from the Local and then navigate the site for more detailed Union/Local News.
Stand! a movie musical opens across Canada on Friday, November 29th – Get your tickets today
With much gratitude to the labour movement, Stand! a movie musical will have its Canada-wide release at select Cineplex theatres on Friday, November 29. The movie, already called the "next Norma Rae", is the result of a partnership between the labour movement in Canada and the United States, the Canadian Museum for Human Rights and the movie's producers. It is described as an immigrant Romeo & Juliet battle for love and better future during a time of social upheaval and union organizing.
The movie will be screened in these Canadian cities: Victoria, Vancouver, Mission, Calgary, Edmonton, Regina, Saskatoon, Winnipeg, Hamilton, Barrie, Vaughan, Ajax, London, Guelph, Windsor, Toronto, Ottawa, Montreal, Quebec City, Laval, Halifax and St. John's.
The movie will be subtitled in French while screened in theatres across Quebec.
In order to maximize the impact of the movie, attendance at the first three days of the release between Friday, November 29 and Sunday, December 1 is critical to being held over in theatres for a second or third week.
To buy tickets online, head to:  https://www.cineplex.com/Movie/stand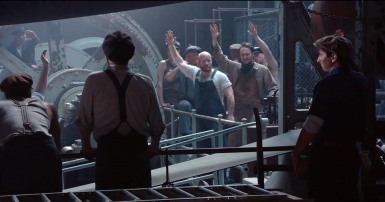 The next General Meeting for members of Local 744 is on Saturday, January 18, 2020 at the ANAF #283 Hall (3584 Portage Avenue).
Call to Order is at 10:00 am. Come a little early for breakfast

Take a peek inside our union's activities.