Welcome to CUPE LOCAL 744
We are the St. James Assiniboia School Division Workers Union, representing Maintenance Staff, Bus Drivers, Painters, Caretakers, Cleaners and Computer Technicians.  
Welcome to our website.
Scroll down for general information from the Local then navigate the site from the menu bar at the top of the page for Local resources and Labour/Union News.
Affiliations: CUPE Manitoba, Manitoba Federation of Labour

Celebrate the contributions of people with disabilities in Canada. Increase accessibility and inclusion in our communities and workplaces across Canada.
CUPE Manitoba recognizes and celebrates the National AccessAbility Week, May 29 -June 4th.
This AccessAbility week, CUPE celebrates the contributions of people with disabilities and recognizes the important contributions of Brother Bob Guenther, CUPE Manitoba's first ever elected Diversity Representative for Persons with Disabilities on the Executive Board.
Bob shares that "accessibility is a human right, and everyone should be able to participate in our Unions, Locals, and workplaces, barrier-free".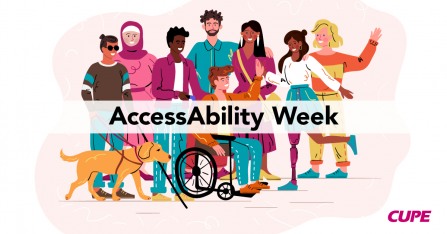 GENERAL MEMBERS MEETING CALL
The next General Meeting for members of Local 744 will be on June 18, 2022.
The meeting will be held at the ANAVets #283 Hall (3584 Portage Avenue).
Call to Order is at 10 am.  Breakfast available but stay after for a BBQ.

Take a peek inside our union's activities.