Welcome to CUPE LOCAL 744
We are the St. James Assiniboia School Division Workers Union, representing Maintenance Staff, Bus Drivers, Painters, Caretakers, Cleaners and Computer Technicians.  
Welcome to our website. Scroll down for information from the Local and then "CATCH THE WAVE" for more detailed Local News.
IMPORTANT PENSION INFORMATION FROM THE MANITOBA FEDERATION OF LABOUR
June 14, 2019
Dear Sisters, Brothers and Friends,
Earlier this week the Pallister government sent out an 11th hour news release announcing that it plans to introduce changes to the Pension Benefits Act this fall. This announcement came as a surprise, as the current Minister of Finance has refused to meet with labour leaders about the importance of pension plans to the retirement security of Manitobans. 
As you will recall, in the winter of 2018 the Pallister government released a discussion paper and recommendations from the Pension Commission of Manitoba and asked for stakeholder feedback. The report included a number of deeply concerning proposals, including allowing defined benefit plans to be weakened through conversion to target benefit plans. I want to thank all affiliates who spoke out against these reckless proposals on behalf of their members. Due to the strong voice of the labour movement, it appears that the Pallister government will not pursue conversion to target benefit plans.
According to the province's news release: "… the government is listening to Manitobans and has decided to not move forward with the Pension Commission's recommendation to permit a new target benefit/shared risk plan design for single employer and multi-employer plans." Clearly, the fact that labour was able to demonstrate that defined benefit plans are higher performing and yield better returns on investment had an effect.
However, it appears the government has not ruled out a number of other concerning proposals from the Pension Commission Report. Proposals like loosening unlocking provisions and ending the long-established principle of universal participation appear to still be on the table. The government seems committed to opening up Manitoba's pension plan system to "flexibility" instead of the goals of continued stability, predictability and security. We are concerned that they are focused on adding more risk to the retirement plans of Manitoba workers.
It is also troubling that they sent out this new release just before they call an early election. Their refusal to provide any details through the tabling of legislation means that Manitobans will not get to see the specifics of their plan for pensions before they cast their ballots this fall. You will recall that this is the same government that said they could be trusted to protect Manitoba's front-line services in the 2016 election. I don't have faith that this government has the best interests of workers in mind when it comes to their retirement security.
All workers deserve to be able to retire from working life with dignity and financial security. Voters should have a clear understanding of the Pallister government's plan for their pensions before they go to the polls.
Manitoba's unions have been strong and united in calling for the provincial government to ensure that any changes to the Pension Benefits Act are made with the goal of ensuring stronger retirement security for Manitoba workers. If legislation is introduced this fall, Manitoba's labour movement will need to make a strong stand against the weakening of pension security for working families.
In solidarity,
Kevin Rebeck
President of the Manitoba Federation of Labour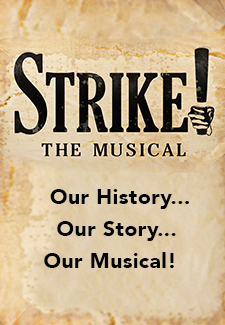 RAINBOW STAGE presents STRIKE! THE MUSICAL June 18 – June 28 and July 2 – July 5, 2019
Re-imagined by a visionary creative team, STRIKE! THE MUSICAL
will not only feature extraordinary performers who act, sing and dance…
…but performers who play the score with our musicians at the same time!
Manitoba's rich history of acting, singing, dancing and musicianship combine to create a production of
STRIKE! THE MUSICAL that defines commUNITY!
If there is one event you want to take in for the
Centenary of the Winnipeg General Strike,
Don't miss the one-stop flagship event!
Student Preview Matinee – June 17 at 11:00am
Take a peek inside our union's activities.